Piazza Duca d'Aosta, 1, 20124, Milan, Italy
The second largest train station in Italy, Milan Centrale, is an important transport hub and a true architectural gem. Opened in the early 1930s, the imposing and magnificent structure is one of the top Milan attractions on its own, boasting beautiful facades with fancy moldings and a glass and steel arched rooftop. Apart from serving as a departure spot for hundreds of domestic and international routes of Italian trains, the Milan Centrale station boasts a great number of shops and restaurants, making it kind of a center of commerce and entertainment. Over 300 thousand passengers pass through Milano Centrale daily.
The Largest European Train Station by Volume: Milano Centrale
Milano Centrale impresses by its scale and beauty. Check out the video to get a brief insight into the Milano Centrale interiors and get a better understanding of how to navigate around this busy yet spectacular train station.
F.A.Q.
Getting Around Milano Centrale Railway Station
Where is the Milano Centrale station located?

Milano Centrale enjoys a great location close to the city center, about 2.5 km (1.5 miles) from the iconic Milan Cathedral. Moreover, there are lots of hotels near the station so you will have no problems with finding a place for an overnight if you need to change trains.
How to get to the Centrale Railway Station in Milan?

The station is easily accessible by public transport. You can conveniently get to Milano Centrale from the Centrale metro station, located on the lowest level of the railway station, without the need to go out on the street. Plus, it is possible to reach the station by bus or tram.
What amenities can be found on the Milano Centrale train station?

The Central Station of Milan offers a wide range of facilities able to contribute to the safe and worry-free journey. Thus, the station provides ticket offices and ticket machines, spacious lounges, ATMs, lots of shops and restaurants. Free WiFi is also available.
How many tracks are there on the Centrale station?

Milano Centrale is equipped with 24 well-maintained tracks. We strongly advise getting to the station earlier as you may need some time to navigate around the station, pass controls, and find your platform.
Is there a left luggage service on the Milano Centrale?

Yes, you can find the Milan Centrale left luggage facility called KiPoint on the ground floor. The service is provided at additional cost.
Photos of the Milano Centrale Station
Milano Centrale Hall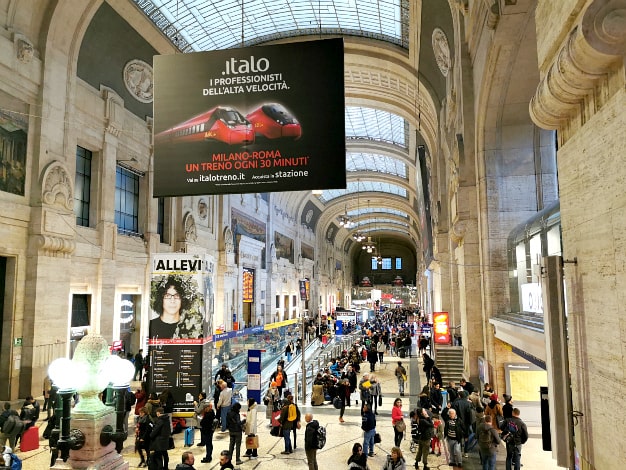 Platform of the Milano Centrale Station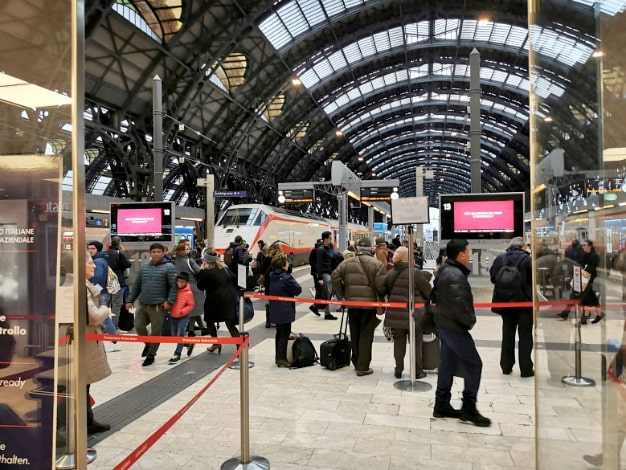 Popular trains departing from Centrale Station