Plaza Emperador Carlos V, 28045, Madrid, Spain
Being the first train station to be built not only in the capital city but in entire Spain, the Puerta de Atocha is the biggest and busiest rail hub in the country, servicing both domestic and international routes, as well as the Spanish high-speed AVE trains. It began functioning in 1851 and was named after the beautiful basilica, called Nuestra Senora de Atocha, which is situated not far from the station. Moreover, Puerta de Atocha is regarded as one of the prettiest stations in Europe, boasting a breathtaking garden with thousands of tropical plants adorning its very heart.
Sneak Peek Inside the Puerta Atocha
To help you get a better understanding of what Madrid's major train station looks like, consider watching the video below, showing the interiors of the building.
F.A.Q.
More About the Puerta de Atocha Railway Station
How to get to the Puerta de Atocha station?

The location of the station is very convenient, right in the center of Madrid close to popular attractions such as the Prado Museum. It is easy to reach it by public transport, the metro being one of the top options. The closest to the Puerta de Atocha metro station is called Estacion del Arte (which is part of the light blue line 1), it takes about 3-5 minutes on foot to walk to the station from the metro exit.
What to find on the Madrid train station?

Apart from the standard things you'd expect to find inside a modern train station (such as waiting areas, WCs, ticket desks, cafes, etc), as mentioned previously, the Madrid Atocha tropical garden is among the most interesting places in Puerta Atocha. You may use one of the intuitive Madrid station maps placed inside to allocate the place you are searching for. Also, outside the station, there is an important memorial, erected in memory of the victims of the 2004 Madrid attacks.
Does Puerta de Atocha have luggage storage?

It is possible to stow your baggage in lockers of several sizes at the station's left luggage areas, so-called "consignas", for a small fee. You can find one near the boarding platforms opposite the central area with the garden, for instance.
How to get from Puerta de Atocha station to the airport?

It is possible to reach Madrid's main airport, called Madrid Barajas Adolfo Suarez, by taking a fast Metro Ligero train from Puerta de Atocha. The duration of the trip is approximately 25 minutes, and the train arrives near the fourth airport terminal.
Photos of the Puerta de Atocha Train Station
Puerta de Atocha Interiors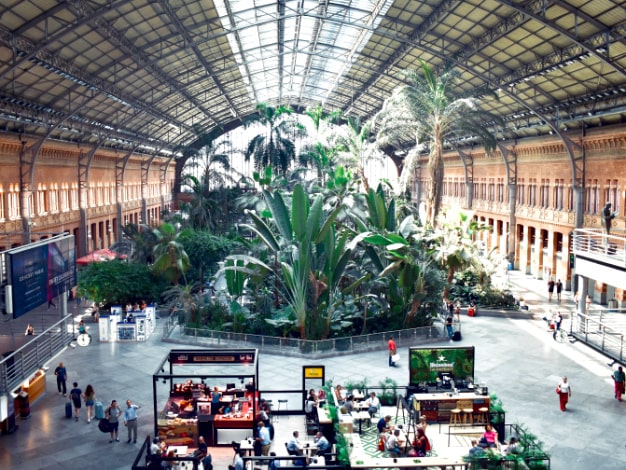 Platform of the Puerta de Atocha Station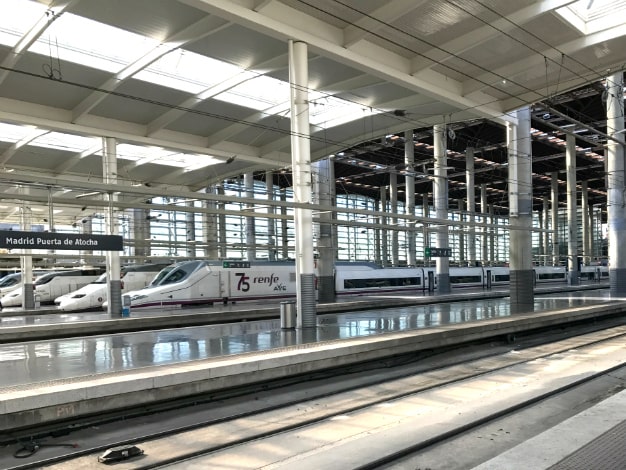 Popular trains departing from Pta. Atocha - Almudena Grandes Station
Renfe